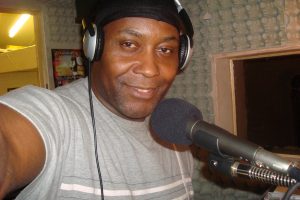 DJ – Choreographer – Manager – Promoter – Engineer – Animateur
Lloyd Bertrand, also known as Ninjaman Lloyd, was born under the birth sign of Virgo, 10th September, 1958 in the capital city of Basterre, Guadeloupe, French Caribbean. Up rooted from a French Creole and English speaking background. Graced with a talent gift to enrich and bring happiness to all by virtue of the cultural skills and heritage that he acquired or had imbedded in him through-out his upbringing.
In November,1991 his awareness of culture transpired into the launch of London's hottest world music dance club – Club Zouk. Ninjaman Lloyd, a prolific DJ promoter and choreographer, has contributed to the introduction of many bands from Paris, Africa and the Caribbean to the UK audiences. Including the production and release of various LPs / CDs from the elk of First Serenade Band and Dianga Chopin of the Congo. Ninjaman Lloyd has also assisted many of today's prolific Zouk DJs with Knowledge, supply of music, cultural awareness and identity. The Chakatcha Dance Company, brainchild of Lloyd was also inaugurated in that era.
In 1993 Ninjaman Lloyd was responsible for the launch of the Club Zouk Carnival Band, as well as the Club Zouk Record shop. Asymmetrically set up to produce, distribute, enhance the profile of the music, its identity and culture to the metropolis. His love for culture and music, led him on a quest to seek deeper awareness in a mixed grill of traditional dances of the Caribbean and African origin, for the benefit of the public. Dedicated to the arts, affiliated to several community groups, networking and linking with several associations in London, France, Belgium, Germany, USA, Canada, Africa and the Caribbean basin, Ninjaman is indeed a pioneer of culture. He continues to embrace the unique opportunity to protect his acquired heritage, assist with the aim of promoting positive images of African and Caribbean Art / Cultures, encouraging the mutual acquaintance and appreciation of languages, and hence, the enhancement of social lifestyles for diversity and reciprocity.
At an early age his interest in music and dance was well appreciated during his involvement in various carnival and traditional drum dancing events, cultural galas, local school events and traditional folk singing emanating from his village in Grand Bay, Dominica. His arrival in the United Kingdom, June 1972, introduced him to business studies, field of technology, humanitarian issues, travelling, dancing, sports, arts and entertainment's. Dubbed Ninjaman ' Club Zouk' Lloyd, he is receptive to a wide range of music, including rhythm and blues, ragga, rhumba, salsa / merengue, jazz, zouk, soca, country & western, rock and roll, and traditional African. His language skills include fluent English, French and Creole. In his spare time, he is a Manager for the Diaspora , Promoter, Leader and DJ.
---